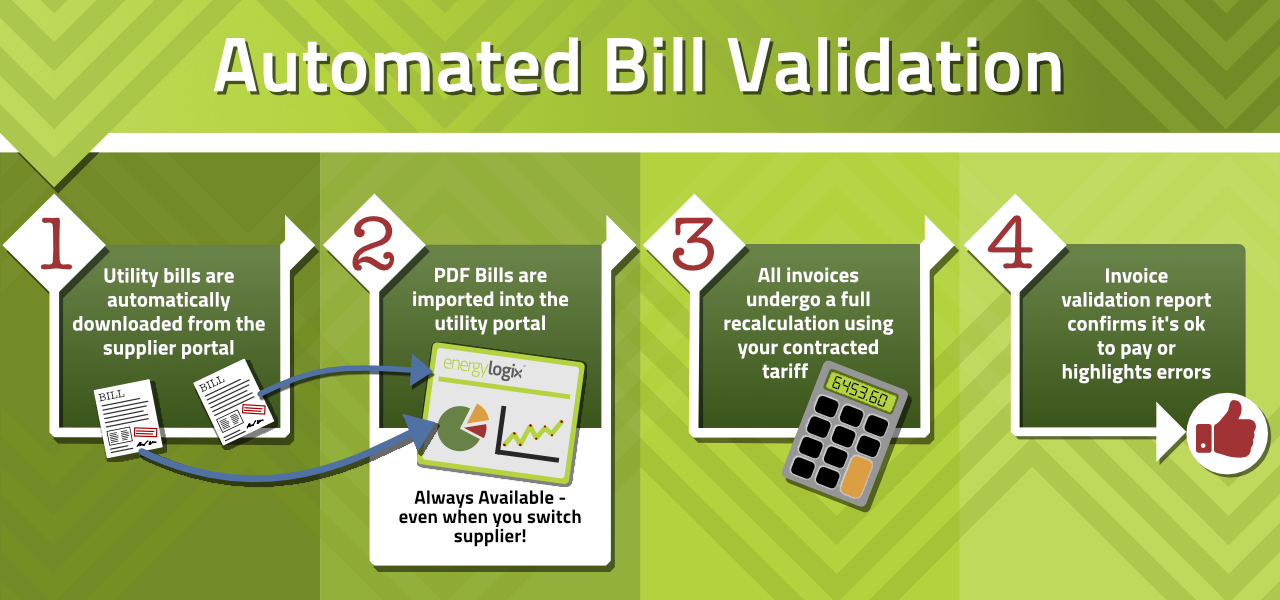 Offering an automated invoice validation service helps ensure your customers only pay for the energy they use whilst generating additional revenue for you.

 Invoice validation is becoming more crucial to your clients. They trust you to make sure that they are getting the best energy deal for their business; so why shouldn't you add even more value by checking their invoices for them and ensuring that they are only paying for the energy they use?
The best bit is that it's fully automated so that you can provide invoice validation to your customers without increasing your workload! Our validation software downloads and validates energy invoices on receipt, doing a complete recalculation using the contracted tariff details, VAT and CCL values.
Our validation service enables you to expand the existing services that you offer, whilst allowing you to generate revenue by charging for it plus it ensures that your customers are only paying for the energy they use, at the cost they agreed.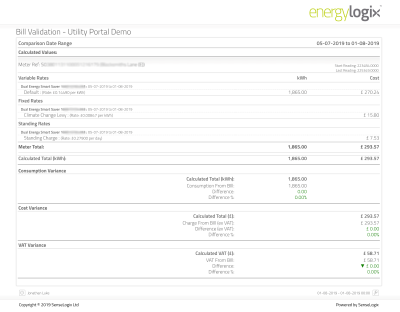 Example Invoice Validation Screen
Features
Automated invoice validation on receipt of new bill
Validation through full invoice recalculation
Recalculation using contracted tariff details
CCL & VAT validation against site/building use
Invoice consumption data compared to customer meter readings or actual readings where available
Monthly invoice validation summary
Benefits
Advise customers when thay have been overcharged and help them get refunds
Ensuring your customers have only been charged for what they have used. On the tariff agreed and that bills are based on property type and level of consumption. Giving them peace of mind and helping you retain customer loyalty
Make sure your customer only pays for what they use
Accurate, easy to understand report, that can be shared with your customers, helping to add value to your services
All utility information in one place
Accessible 24/7 via your web browser
Multi-site, multi-utility data management
Contract information easily accessible
Daily check for new bills & automatic import
Automatic notification of new bills & end of contract approaching
Submit manual meter reads & compare to billed estimates
Continuous history regardless of supplier switching
Monthly energy consumption profiles
Gain a deeper insight by adding half-hourly data
Detailed energy use profiles
Detailed tariff information
Multi meter analysis
Cost centre analysis
Scheduled report distribution
Automated alarms
Suitable for commercial and residential tenants
Automatic meter reading and bill generation
Billing app to take manual meter readings
Monthly or quarterly bills available
All utilities covered
I'd like more information about invoice validation!
Can't wait? Why not call us on: 01745 770 501