Reduce billing disputes and easily apportion utility costs between tenants without increasing your workload.

Our professional tenant billing services simplify and speed up the process of bill generation for landlords and managing agents of all sizes. This solution is suitable for commercial and residential developments such as flats/apartments, studios and student accommodation as well as multi tenanted offices or for the internal recharging of departments.                          If you wanted to make things even simpler we can provide smart meters so that you never have to read a meter again!
We can create bills for you either monthly or quarterly using supplier invoices, remote meter readings or manual meter reading. 
Features
Monthly or quarterly bills
Produced in pdf ready to deliver to tenants
Includes payment information
Multi utility billing
Can be used with automatic or manual meter reads
Benefits
Collect payments regularly to help with cost management
Can be deliver via email or printed for posting
No confusion over where to send payments
One simple bill for all utilities
No need to upgrade metering system all at once
                                                                                                                                                                                                            
.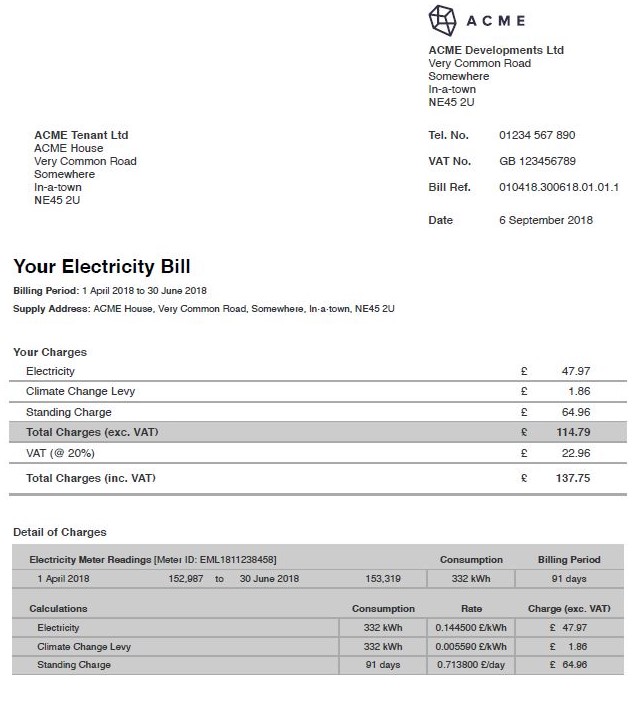 Example Bill
No more meter reading
Automatically generates tenants bills
Multi utility options available
Includes standing charges and tariff information
Monthly or quarterly bills available
Mid bill calculations
Automatic validation of every new invoice
Validated by full invoice recalculation
Ensure correct tariff details used
CCL and VAT validated against site/building use
Invoice consumption data compared to customer meter readings or actual readings where available
Monthly invoice validation summary reports
Secure online revenue collection
No cash, tokens, cards or keys to handle
MID approved hardware
Support 'Dual Fuel' with the optional ATEX approved Gas Pulse Sender
Manual top-up is support for emergency situations
All operational charges are recovered from the tenant
Can't wait? Why not call us on:
01745 770501