Enterprise Energy Management
Simplified Utility Management plus all the tools you need to drive your progress towards Net Zero – in just ONE platform 

  Rapidly rising energy prices and growing social expectations for large enterprises to work towards a Net Zero future, means taking control of utility consumption and costs has never been more important.
At EnergyLogix, we've been working hard to deliver a single, easy to use energy management platform that can help enterprises wherever they are on the energy and carbon reduction journey.
'EnergyLogix Enterprise' is a modular energy managment platform that has been optimised for multi-site enterprises, helping to eliminate the 'utility chaos' that plagues many larger enterprises and provide a solid foundation on which to build and track your Net Zero action plan.
Some of the benefits you can gain include:
simplified utility management by keep all your utility bills and information in one, easily accesible location
invoice validation to ensure that you have been charged correctly for the utilities you have used
detailed utility and carbon reporting enabling you to monitor cost, kWh and compare days,weeks months and years
identify & track the performance of energy savings projects. Quickly identify and respond to utility consumption changes with energy analytics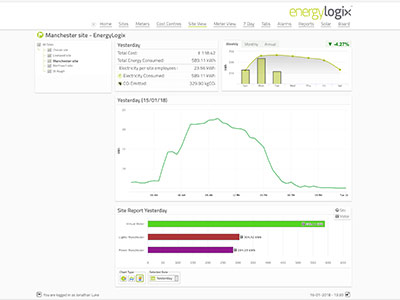 EL Site View
Arrange a demo of EnergyLogix Enterprise today!
Can't wait? Why not call us on:
01745 770501