Highly integrated DIN mounted Modbus edata logger optimised for energy monitoring applications.

  The EnergyLogix range of energy loggers automatically record meter readings from up to 32 Modbus meters or pulse input modules and transmits them back to a centralised location via FTP, SFTP or HTTPS POST (Secure Web Services). These low-cost solutions are fast and easy to set up, ideal for both new and retrofit installations.The energy loggers are suitable for most commercial and industrial sites, having an industrial temperature range of -40 to +85⁰C  and have the benefit a low power design (1.3W Max).Open StandardAll products are 'open protocol' loggers adhering to all common logging andcommunications standards including Modbus RTU, FTP, SFTP, HTTPS POST.
Extensible ArchitectureThe energy loggers are extensible through the addition of industrial standard Modbus RTU local and remote I/O devices allowing you to add energy monitoring wherever it is needed and most cost effective.
 Easy Web Configuration
All configuration and logging setting architecture are easily updated via built-in web server, enabling simplified remote management in the field.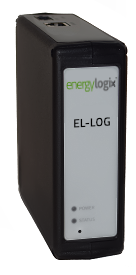 EL Data Logger
Publications and Download
Talk to one of our experts!
Can't wait? Why not call us on:
01745 770501